Microsoft Sentinel All-in-One is aimed at helping customers and partners quickly set up a full-fledged Microsoft Sentinel environment that is ready to use by customers speeding up deployment and initial configuration tasks in few clicks, saving time and simplifying Microsoft Sentinel setup.
 What's new
This new version automates the following steps:
Creates resource group
Creates Log Analytics workspace
Enables Microsoft Sentinel on top of the workspace
Sets workspace retention, daily cap and commitment tiers if desired
Enables UEBA with the relevant identity providers (AAD and/or AD)
Enables health diagnostics for Analytics Rules, Data Connectors and Automation Rules
Installs Content Hub solutions from a predefined list
Enables Data Connectors from this list:

Azure Active Directory
Azure Active Directory Identity Protection
Azure Activity
Dynamics 365
Microsoft 365 Defender
Microsoft Defender for Cloud
Microsoft Insider Risk Management
Microsoft Power BI
Microsoft Project
Office 365
Threat Intelligence Platforms

Enables analytics rules (Scheduled and NRT) included in the selected Content Hub solutions
Enables analytics rules (Scheduled and NRT) that use any of the selected Data connectors
You can see a brief demo here: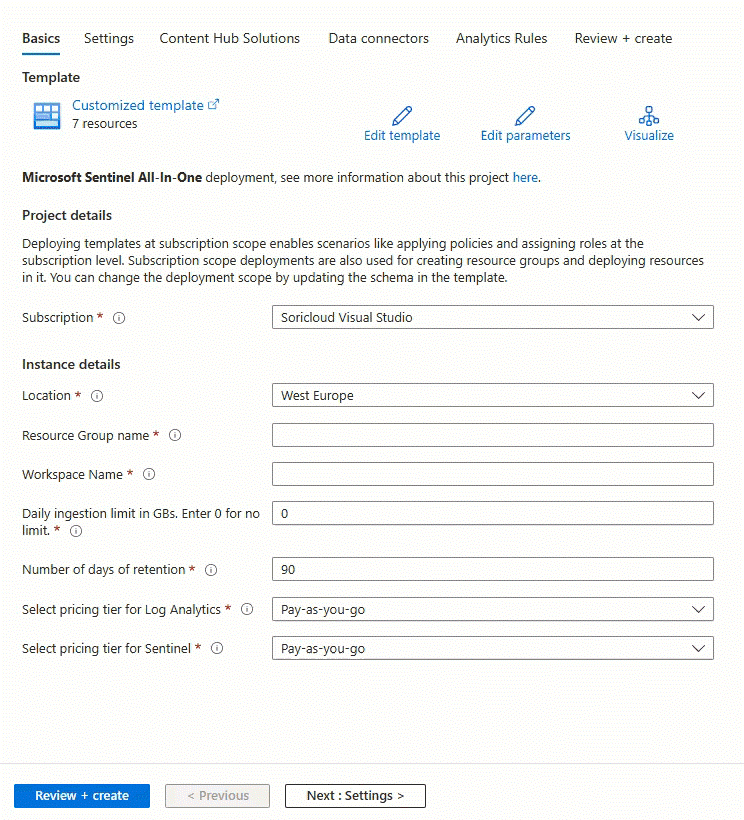 Getting started
You can find this new version at http://aka.ms/sentinel-all-in-one.
The only thing you need to start using Microsoft Sentinel All-in-One, is an Azure Subscription and an account with permissions to deploy Microsoft Sentinel. Higher privileges might be required if you wish to enable UEBA and some of the supported connectors. You can find details about the required permissions here .
Source Microsoft.com